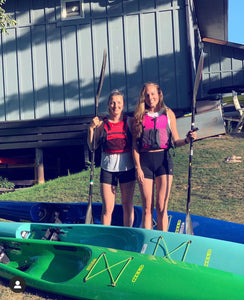 From Sprint to Surfski by Tessa Oldershaw
I grew up at the canoe club, and sprint canoe/kayak is a tradition in my family that runs deep, so getting me out of my trusty K1 wasn't an easy thing to do. (Not to mention that change isn't exactly my forte.)  Nelo won me over when they released their completely redesigned line of surfskis.  They brought on Oscar Chalupsky and invested in creating a line of boats that would compete with and improve upon the best skis on the market.  I first tried one in Portugal at the Nelo Dealers conference in 2016 and haven't looked back.
Paddling in a surfski, I get the same feeling as I do in a sprint boat, but with the added fun of riding waves and learning a new skill.  The technique is the same as a sprint kayak, so it is an easy transition for paddling alumni and would be great cross training for any athlete still training full time.
I am lucky enough to live near Lake Ontario which can range from compelety flat glass, to great downwind chop, to big rollers, and everything in between, and I enjoy getting out in any kind of conditions.  As a working mom of a 3 month old, I am not always able to drop what I am doing to go paddling when the conditions are just right.  Thats what I love about my surfski, it's ready to go no matter what the weather is doing.
Surfski is a great option for myself and my husband, Jordan, since we are both former high performance kayakers, but I also love that it is more accessible to everyone.  Unlike sprint kayaking, which can be intimidating with a steep learning curve, I can share my love of being on the water with my non-paddler friends and family (Yes- I do have those too!
---